Ultenic T10
THIS ROBOT REALLY SUCKS.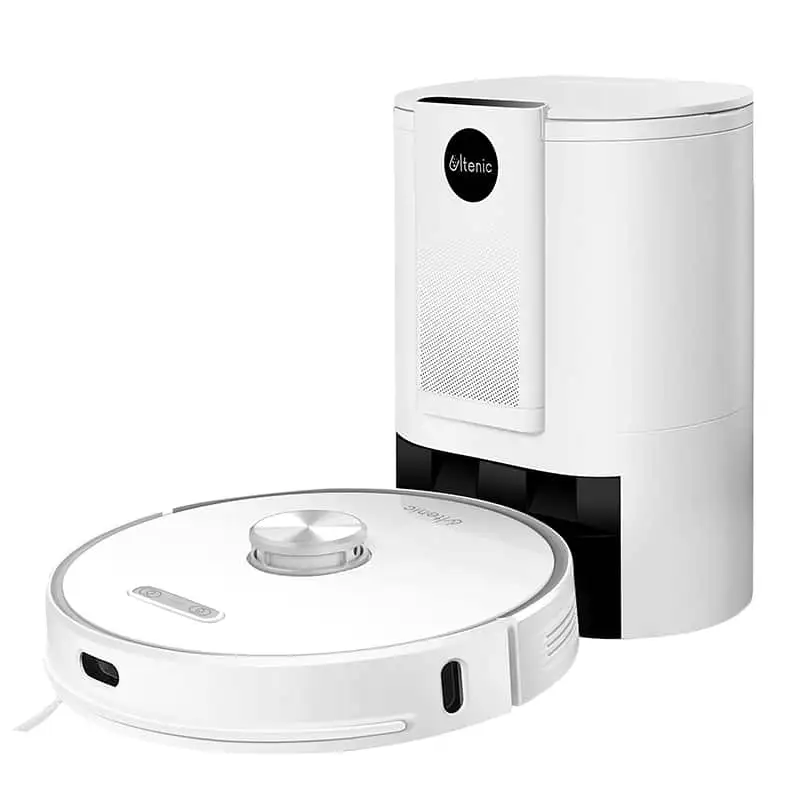 When it comes to robot vacuum cleaning performance, there is one key measure you need to consider when purchasing any robot vacuum, its suction power.
If it has low suction, then it just won't clean as well and will be subject to blockages or not picking up larger items.
So, let's not waste your time, the Ultenic T10 really sucks!
You can check out the comparison suction table below and decide if you would like to read on.
| PRODUCT | SUCTION POWER |
| --- | --- |
| Ultentic T10 | 3300pa |
| Roomba S9+ | 2500pa |
| Roomba i7+ | 1800pa |
| Roborock S6 | 2500pa |
| Deebot N8 Pro+ | 2600pa |
SO NOW YOU KNOW IT REALLY SUCKS, LETS TALK ABOUT ITS OTHER FEATURES.
ULTENIC T10 PRODUCT REVIEW
IT'S A VACUUM AND A MOP!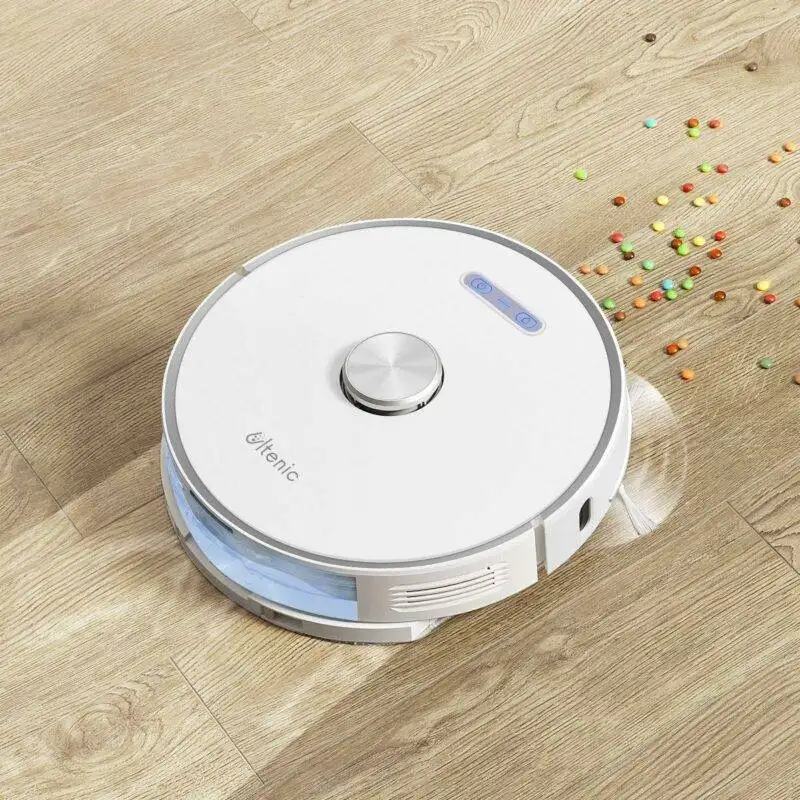 The Ultenic T10 robotic vacuum cleaner supports vacuuming and mopping simultaneously. There are 4 stage water volume adjustable for mopping (dry, slightly dry, standard, slightly wet) and 4 cleaning modes (automatic cleaning, selective cleaning, spot cleaning, and edge cleaning), giving your floors a comprehensive clean.
SELF EMPTYING DUST BIN.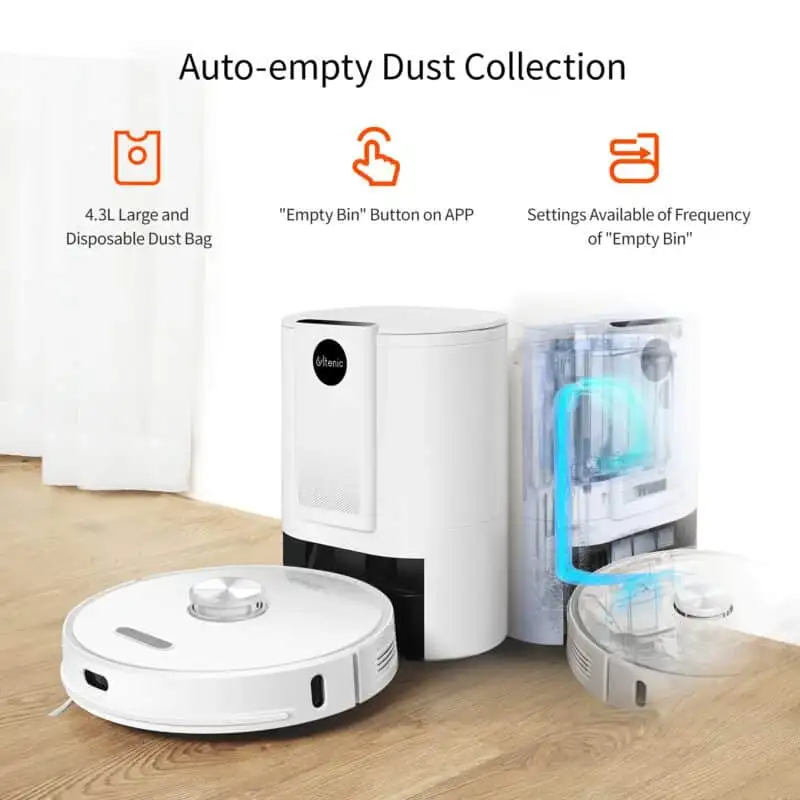 Most robotic vacuums have a small dust collector box that must be emptied regularly. This can become tiresome after a while, after all, didn't you want to not have anything to do with your robot vacuum once installed?
The Ultenic T10 features a self-emptying dust bin, with a whooping 4.3 litre capacity, which can hold up to 60 days of dirt and debris. Once the dust bag is full, the robot vacuum T10 will remind you.
CREATE NO GO ZONES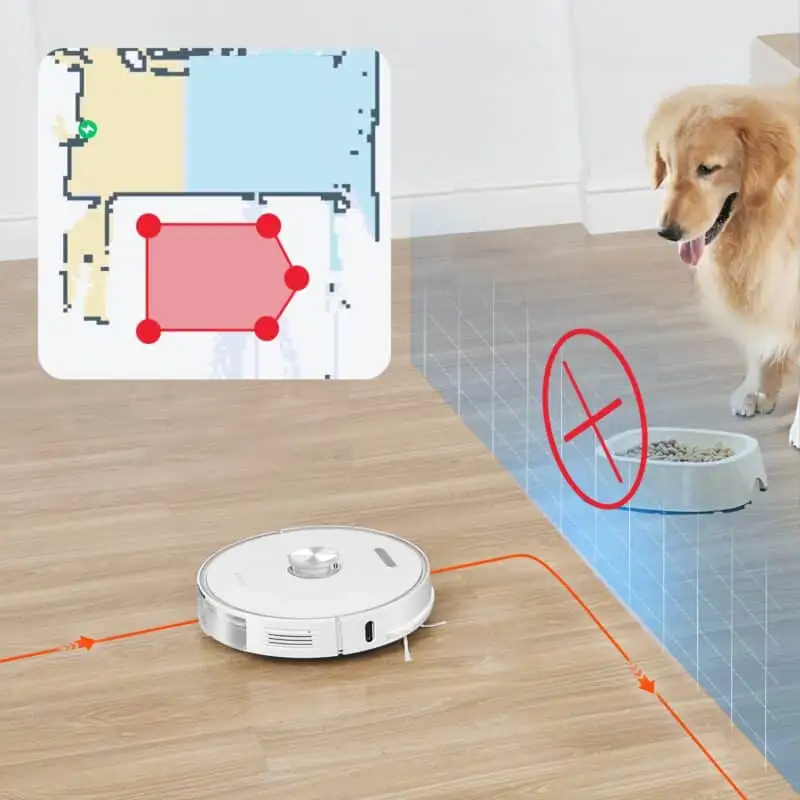 Sometimes you have rooms or area you just don't want the robot to go.
Some brands use expensive beacons, others magnetic strips, not the Ultenic T10, you can easily program no go zones via the APP, you can add up to 15 no go zones!
THE POWER TO CLEAN!
With a whooping 5200Mah battery, you have up to an incredible 280 minutes of cleaning time and 250m2 of coverage!
WORKS WITH GOOGLE HOME AND ALEXA.
Just keep doing what you're doing and simply tell your Ultenic T10 to start cleaning.
ULTRA CARPET BOOST
The Ultenic T10 automatically increases its suction power to max mode when a carpet is detected, to ensure a thorough cleaning on the carpet. Once the robot vacuum leaves the carpet, it will turn back to the previous suction mode.
CLIMBS UP TO 2CM!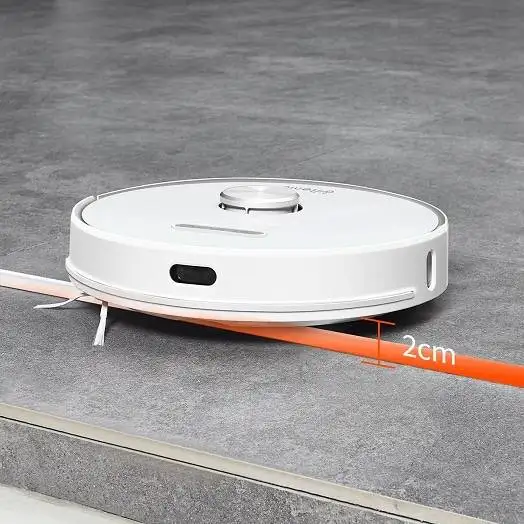 Your Ultenic T-10 can easily climb up onto rugs with the ability to clear raised objects up to 2cm!
SMART LASER NAVIGATION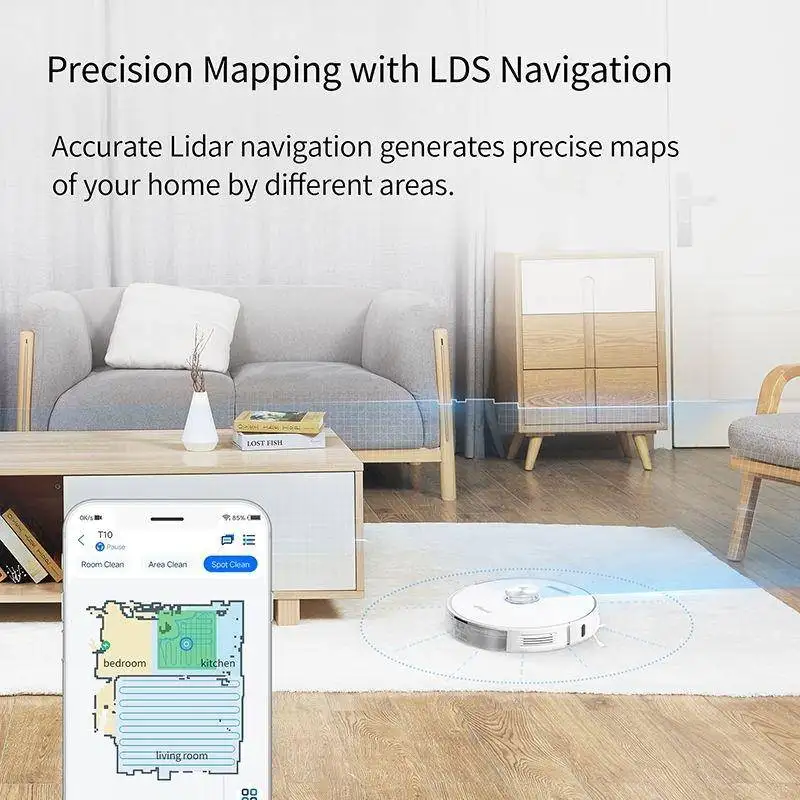 Ultenic T10 navigates & maps your home in neat efficient rows with floor tracking sensors, and learns the layout of your home using laser technology.
MULTI-FLOOR MAPPING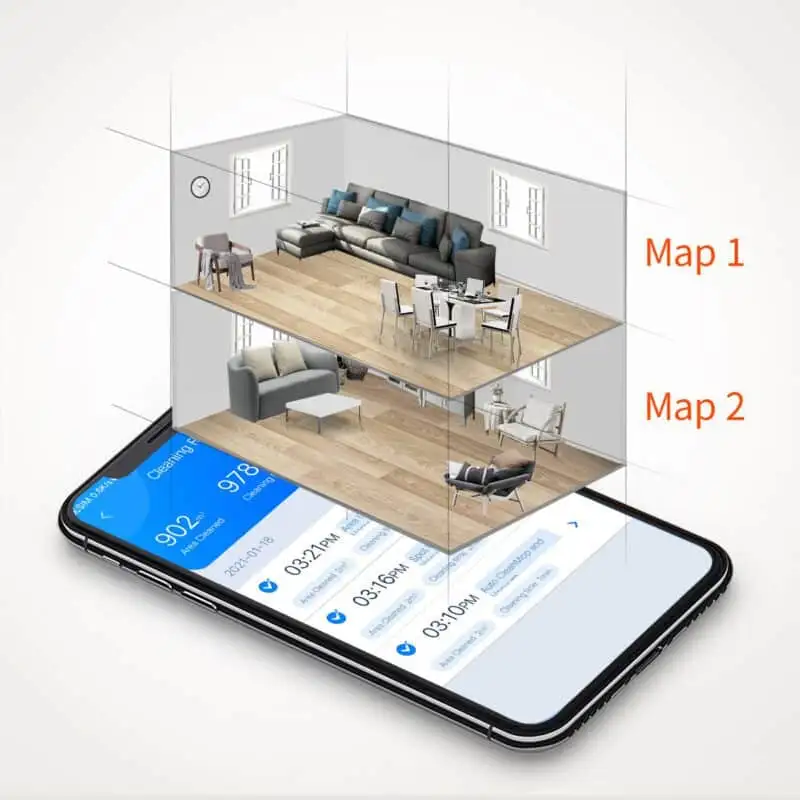 Your Ultenic T10 can create and store multiple maps to make itself always ready to clean promptly and efficiently, even when moved to a different location or floor.
Making it perfect for homes that have more than one level.
EASY TO USE APP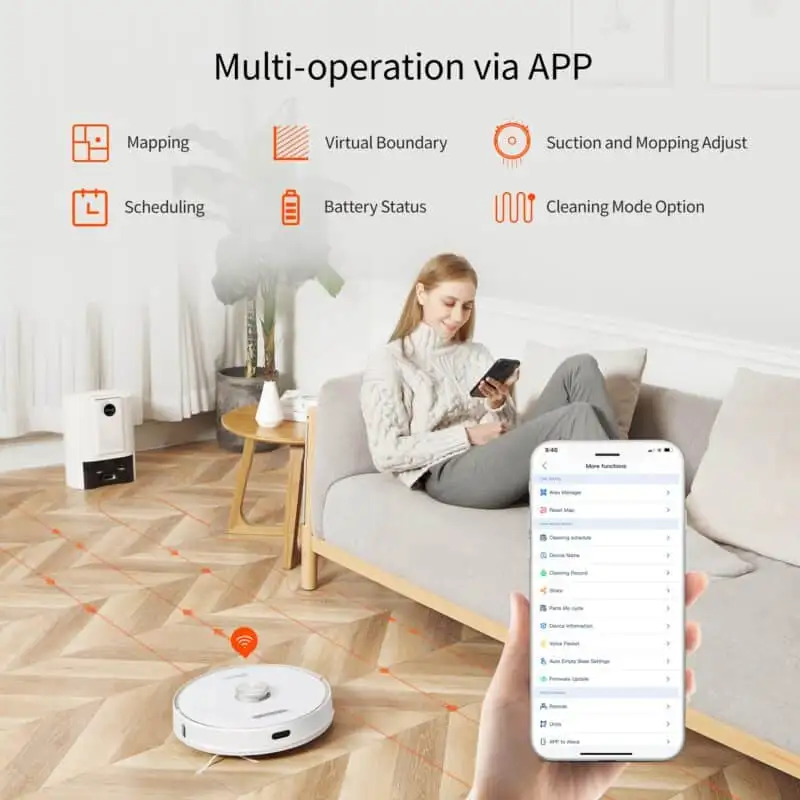 Easy to program via the APP
3 ADJUSTABLE SUCTION MODES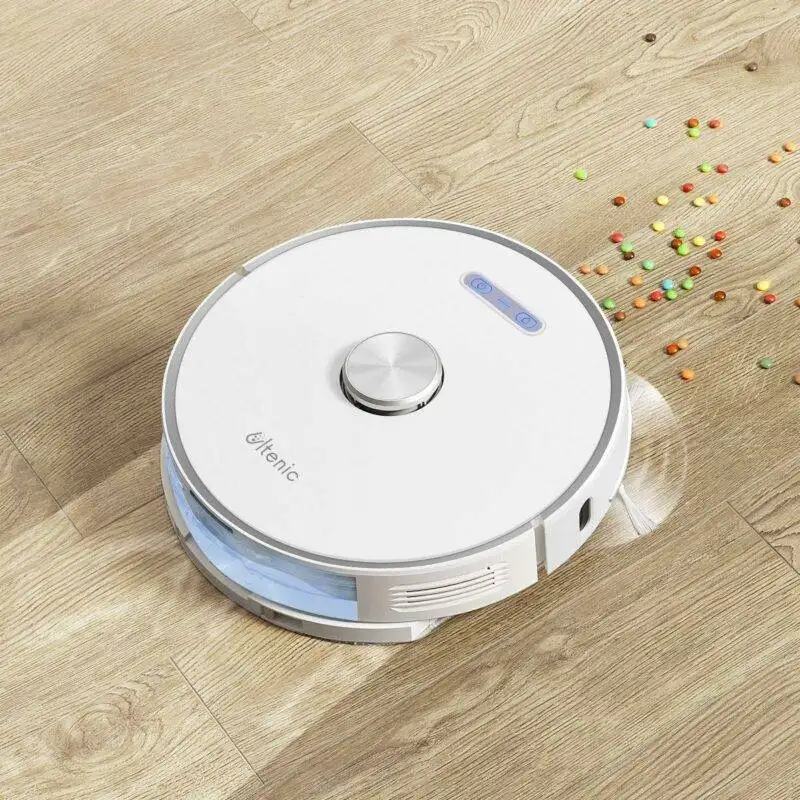 Three suction modes (standard, quiet and power) are available to be adjusted according to the debri size, and are powerful enough to suck up everything ranging from dust to hair.
WARRANTY
Your Ultenic T10 comes with a 12 month warranty
WHO IS ULTENIC?
Ultenic is a fast emerging brand in Europe and Asia with several patents and strong R&D. Its primary focus is offering high quality products at an affordable price point.
WHAT DOES YOUR ULTENIC T10 COME WITH?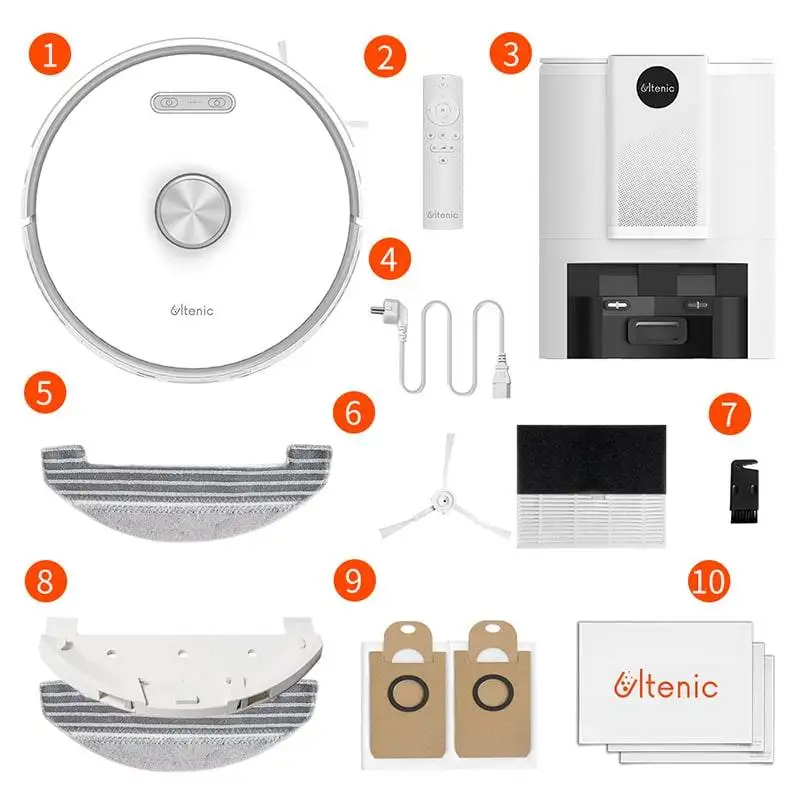 ⦁ T10 robot vacuum
⦁ Remote control (yes, it works with the APP as well)
⦁ Dust bin
⦁ Power cord
⦁ Mop pad
⦁ Sweeping brush and filter
⦁ Cleaning brush
⦁ Mopping unit
⦁ Dust bags
⦁ Filters
HOW DOES THE ULTENIC T10 COMPARE
We think the new Ultenic T10 will be a game changer in Australia and New Zealand. It's smart, cost effective and powerful.
The Ultenic T10 will retail for $850… but you can purchase for only $750 including shipping and handling.