HOBOT LEGEE D7
A NEW WEAPON AGAINST PET HAIR!
HOBOT LEGEE D7 Robot Mop/Vaccum
To be honest, we were not expecting much with the HOBOT LEGEE D7, after all the name suggests it is just a variation of the HOBOT LEGEE 7, but nothing can be further from the truth. This is a totally different robot, so don't let the shape fool you.
When we received the HOBOT LEGEE D7 sample a couple of months ago, we were really impressed by the look of the unit. It is the most aesthetically pleasing robot we have ever seen. Retaining the same D shape, one could be fooled into believing that the LEGEE D7 is the same as the HOBOT LEGEE 7, but this robot can mop floors and vacuum carpet, plus it has insane suction ability…… with little to no tangled hair.
HOBOT LEGEE D7 UNBOXING AND REVIEW
DESIGNED FOR CARPETS AND HARDFLOORS
Unlike the HOBOT LEGEE 7, the HOBOT D7 is designed for hardfloors and carpets. It has the ability to climb up to 20mm (i.e expansion gaps, rugs etc) and the mopping pad raises up to 6mm. 
Unlike many hyrbrids, the HOBOT LEGEE D7 vacuums well and mops well, thanks to its seperate hair suction port. 
TANGLESS SUCTION
If you are a pet owner or have daughters, you will only know too well the frustration of hair in drains and wrapped around the brush roller of your robot vacuum cleaner. It is a frustrating job to clear and until now there seemed to be no solution to the problem.
The new patented Tangless vacuum suction design from HOBOT is brilliant! is a clever innovation that not only helps reduce hair getting tangled, it ensures your suction force is not disrupted by a brush roller full of hair. The Tangless suction port removes 80% of the hair before it reaches the brush roller.
Not only that, the sperate port means that the main brush removes more dust and dirt.
enough water to remove stains, but leave no water residue behind
WOW FACTOR!
Is this not the most stylish robot mop/vacuum you have ever seen? Clean white with a styled lid and rose gold inlay.
Most robots detract from the home, the HOBOT LEGEE D7 adds a touch of class.
Can it Vacuum Carpet and Mop hard floors?
YES!!!!!!!!!!!!!!!!!!
The LEGEE D7 is capable of vacuuming hard floors and carpet, a solution for the whole home.
INSANE SUCTION POWER
We didn't expect much change due to the D7 having the same 2700PA as the LEGEE 7, but we have been blown away by the suction performance of the new LEGEE D7. We have sucked up dog food, rice and pistachios, haven't tried kitty litter, but suspect it will suck it up just as well.
The separate port for hair really helps reduce debris before dust and dirt gets to the brush roller. The brush roller is super thick unlike other robot vacuums and seems to really pick up dust and dirt really well, especially in deep cleaning mode. This wonderful feature increases the speed of the brush roller and changes the vacuum power to maximum, removing dust and dirt before your LEGEE D7 sprays solution and mops. The result, clean floors.
Check out the dust box, literally crammed full, even after using another product prior. The only downfall is the dustbin size (500ml), which is a little small.
MOPPING SYSTEM
The LEGEE D7 has different mopping system to the LEGEE 7 due to the unit being a hybrid. The mopping pad lowers to the ground with 600grams of force to mimic the pushing action used when mopping.  I really love the intelligent cleaning pattern it uses and it has exceptional mopping performance due to the thick brush roller and two vacuum ports removing everything in their path.
VIRTUAL BARRIER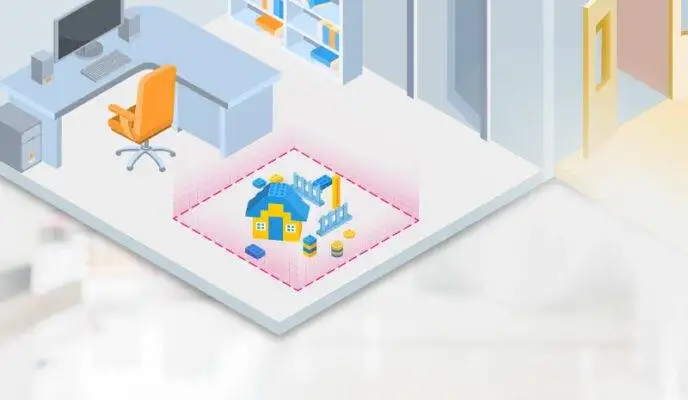 No two homes are the same and you may have a room or zone which you don't want your HOBOT LEGEE D7 to enter. Within seconds you can easy create a virtual barrier on the APP, preventing your HOBOT LEGEE D7 entering that zone. Perfect for ensuring your HOBOT LEGEE D7 avoids rooms with carpet.
To go one step further, HOBOT has also developed virtual box.This amazing little idea is great for anyone with children. Children love to make play areas around the home and sometimes they want to keep their masterpiece on the floor for longer than you'd like. Using the APP you can easily create a virtual box around objects ensuring that the masterpiece is protected and you can continue to clean your home when you want.
7 CLEANING MODES
Standard Mode– a general cleaning mode when you are not too sure
Strong Mode– when you need maximum vacuum suction
Eco Mode- when you need a lower setting and quieter operation, great for when babies are sleeping
Deep cleaning mode– high speed brush rolling, max vacuum setting and mopping for real cleaning performance
Dry Mode– No mop, just vacuuming
Stain Mode– divides areas into a 1.5m x 1.5m area and gives it a thorough double mopping pass
Tangless Mode– Dogs/Cats shedding? This mode is perfect for grabbing all that pet hair
Our favorite mode is Deep Cleaning Mode, having pets this is a great cleaning mode for hard floors and tiles.
The app is intuitive and very easy to program
OBSTACLE CLIMBING
Unlike the LEGEE 7, the LEGEE D7 will climb up to 20mm, which means if you have expansion gaps, tiles or rugs that are slightly raised in a room, it will have no issues in climbing it.
Auto Recognition Mapping (ARM)
The LEGEE D7 will automatically recognize carpet and raise the mopping pad by 6mm. A clever feature that is missing on most robot mops we have seen. It also automatically raises itself when the unit docks, again just a smart feature that helps ensure your mopping pad gets ventilation.
Be one of the first people to own the new HOBOT LEGEE D7, in stock and now shipping. On sale for $699, save $100