Receive before Christmas. In stock and ready to dispatch!
This product is currently in stock and will be dispatched express post within 1 business day. Depending on your location you will receive your item within 2 business days*
*Delivery times dictated by Aus Post 
MoeBot S20 (mows up to 2500sqm)
2 year warranty
Cuts up to 2500sqm
Can work up to 30 degree angles
Free Shipping
Every now and then, a product is released and it's a game changer. The type of product you can't live without and once you own it; you'll wonder, 'where has this been all of my life?'.
We are so confident with the new S5 and S10 it has a 2-year warranty.
The MoeBot S5 and S10 are those products!
After relentless development, we are pleased to announce the release of the S5 and S10. We have developed a high-performance robot lawn mower that cuts well and is super easy to use.
The MoeBot has one of the most powerful cutting motors in its class!
More grass cut per pass means it has ability to cut through thicker grass, like Buffalo. Lower speed motors can struggle in thicker grass, the motors can stop frequently leaving grass patches not mowed. But not the S5 and S10, it has ample power to ensure you get a nice clean cut.
The S5 and S10 has an impressive cutting ability, its high speed cutting motor slices through grass with ease and more efficiently than robot mowers that cost thousands of dollars more.
Yes. Your MoeBot S5 and S10 drives over the top of its boundary wire completing an edge mow. Minimizing the need for whipper snipping. But regardless of claims some manufacturers make, all robot mowers will miss some grass near retaining walls and garden edging, so you will need to whipper snip some areas.
If you have level concrete edging on one side of your grass, your MoeBot S5 and S10 can drive over the concrete and grass due to its 4 wheel system and rubber wheels, reducing the need for whipper snipping.
What sort of grass can the MoeBot mow?
Buffalo
Couch
Kikuyu
Zeon Zoysia
Fescue
What is the difference between the S5 and S10 model?
The specifications are exactly the same, except for the battery size. The S10 has a larger battery, which increases its maximum cutting area and cutting time:
S5- will mow up to 600sqm with a 1hr cutting time
S10- will mow up to 1400sqm with a 2hr cutting time
You can always upgrade or downgrade the battery in the future. It is just a matter of removing a couple of screws and connecting the battery via the dedicated battery cover underneath the unit.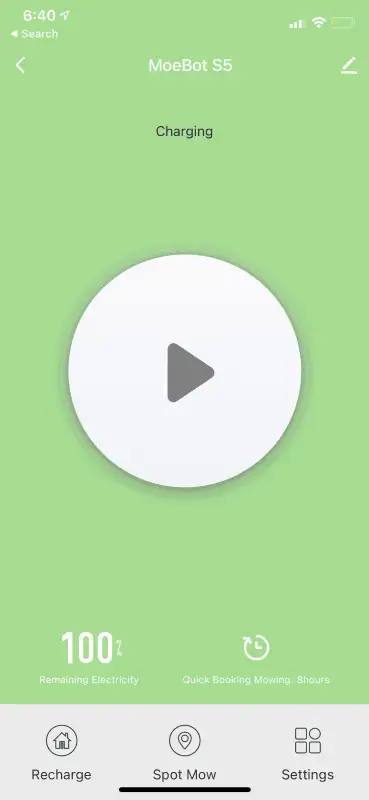 The APP has been developed with the non-technical person, elderly and the disabled in mind.
We have used universally recognized symbols, simple terminology and user-friendly functions to make the MoeBot the most user friendly robot mower for all customer types.
Once your MoeBot is charged and APP installed, it can literally be started with the push of 1 button, which of course, is simply to press 'play''.
If you want to make life easier, spend a few more seconds setting a regular schedule.
MoeBot makes your life easier. You can program you MoeBot within seconds to mow your lawn on different days, times and areas.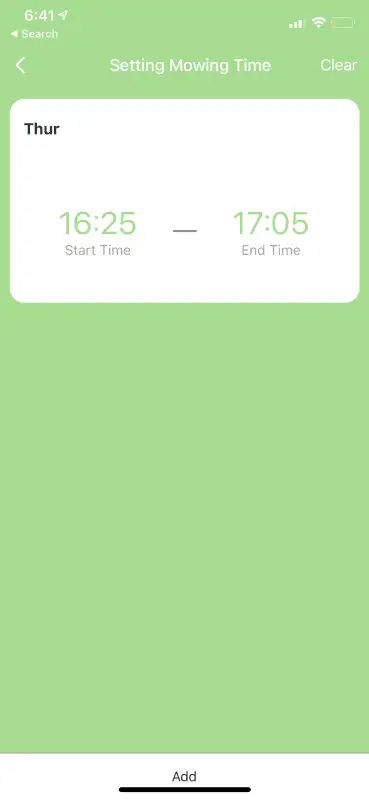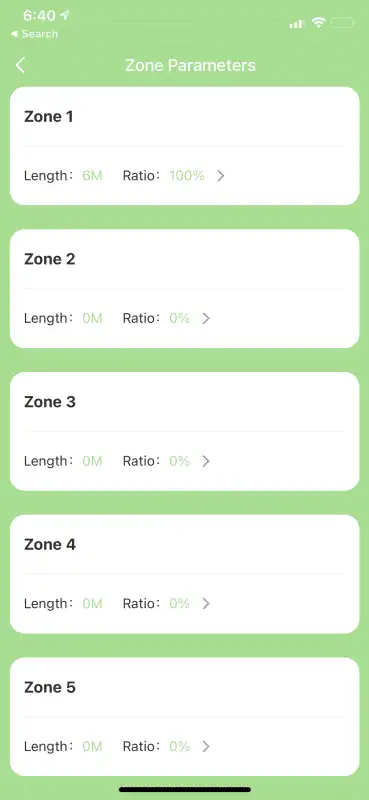 Set up to 5 working areas
Within seconds you can program your MoeBot via the APP to mow up to 5 different working areas, ensuring that all areas of your garden get the desired attention they deserve.
Adjustable cutting height
Your MoeBot S5|S10 has a cutting height adjustment knob. By turning the knob clockwise you can change the cutting height from 2.5cm to 5.5cm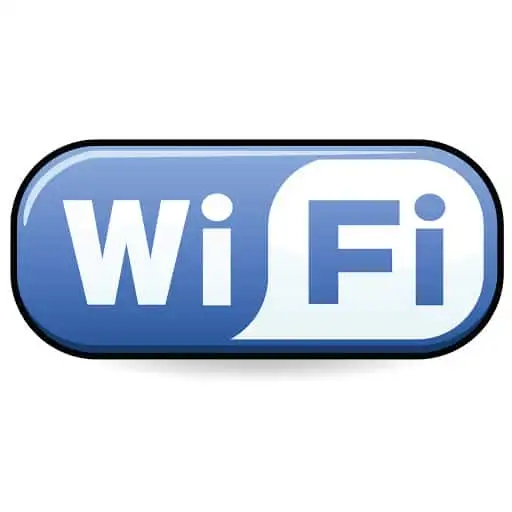 Your MoeBot easily connects via your home WIFI.
If you prefer not to connect via the home WIFI, it can also be used via the LCD control panel on the robot.
What happens if there is a new software update?
Your MoeBot features OTA technology, so it will automatically update via your WIFI. If you don't have WIFI, you can plug in your laptop via the USB connector and update software easily.
Your MoeBot is protected by a pin-code you set, plus if someone picks up your MoeBot, you are immediately alerted via the APP.
MoeBot let's you know what is happening!
MoeBot keeps you up to date via push alerts to your APP. That way you don't need to check on your MoeBot. If your MoeBot encounters an issue, it will alert you via the APP so you can quickly rectify any problems.
Our new blade system allows you to flip the blades when one side is blunt. Unlike other robot mowers that require a whole new blades, saving you money. When your battery eventually needs replacing (1-2 years) its just a matter of removing a few screws on the dedicated battery cover underneath the unit.
The MoeBot S5|S10 is easy to install. There is no technical knowledge required. Just a hat, sunscreen, a hammer/mallet, scissors/wire cutters, pliers and away you go. If you get stuck, we are just a message away.
What does the S5 & S10 come with?
Unlike some brands, we supply you with a full installation kit.
MoeBot robot mower
Docking station
Docking station screws
Allen key spanner
100M of boundary wire
100 pegs
Power pack
9 blades
Wire connectors
MoeBot APP manual
MoeBot Instruction Manual
MoeBot maybe less expensive than other brands, but it doesn't mean it is a cheap robot. We are so confident that you'll love your MoeBot S5 and S10 that we provide you with a 2 year warranty on the cutting and wheel motors, placing your mind at ease.
How does the MoeBot S5 and S10 compare to the other major brands?
We believe from a performance, ease of use and specifications perspective that we are the most cost-effective robot mower in the Australian and New Zealand market. So much so, we have listed a comparison chart below so you can be the judge.
We produce a host of videos to help customers trouble shoot, if this fails to help you, we have a dedicated team that support via an online ticketing system. Our team have installed many robot mowers and understand how best to set up your robot mower.
With MoeBot your never alone.
OMG! I want one!!!! How do I order?????
The MoeBot S20 retails for $1,350 but for our Xmas Sale you can get one for$1,200 saving $150
It also comes with free shipping and our rock-solid 30-day money-back guarantee.
Click here to see the S5 In action
We're incredibly confident in the MoeBot S20, which is why we offer a generous 2-year warranty. Your satisfaction and peace of mind are our top priorities!