Receive before Christmas. In stock and ready to dispatch!
This product is currently in stock and will be dispatched express post within 1 business day. Depending on your location you will receive your item within 2 business days*
*Delivery times dictated by Aus Post 


No Tangled Hair on the Brushroll
Tangless™ Suction Gets the Hair Before the Brushroll

No Dust Collecting Base Needed
ECO Compactor™ 5X Compression Rate Trash Bin
No Halfway Returning Mop-Wash Required
HSSPL™ Reciprocate Mopping Leaves No Trace Behind
Unmatched features and price for a total home clean!
We expect this to quicky become the number 1 self cleaning robot vacuum in Australia with unmatched features and performance. HOBOT has again proven itself to be a true innovator with features like the ECO compactor, 5000PA suction and ability to scrub 1300 times per minute just to name a few.
 The previous model the LEGEE D7 has a stellar reputation and the new 2 year warranty along side of the amazing features makes this the best investment you will ever make for your home!
Powerful Suction to Pick up Hair Ahead of the Brushroll
The hydromechanics engineers from HOBOT team discovered that the electrostatic forces is the cause of the hair tangling regardless the material of the brushrolls; the patented Tangless™ Suction is therefore designed to pick-up 82% of hair and lint ahead of time with the enhanced wind shear speed before the brushroll touches the hair, cleverly avoiding it from getting tangled.
No more expensive dustbags
ECO Compactor™ is a unique innovation exclusive to HOBOT, just like a mini trash truck, which automatically minimises the trash occupancy to conserve up to 5 times of capacity with the built-in compactor, so you don't need to empty the trash as often nor rely on an emptying dock and trash bags to store the trash, saving you money and the environment.
*Experiments by the HOBOT team: at least five times more dust bin space can be freed up after the hair and lint are compressed.
The new Tangless™ Suction 4-in-1 allows LEGEE to vacuum with the front suction, sweep with the deep-cleaning brushroll, spray water, and reciprocate mop in 1300 times/min, 8mm stroke with 800g force—all at the same time!

If you are familiar with robot vacuums, one look underneath the LEGEE D8 and you can immediately see that this machine is designed to clean.
The design speaks of unmatched quality in the industry.
Our unique brushroll with deep-cleaning power can pull in all types of debris and hair on carpets and floors then gather all by the second suction underneath the brushroll.
Micro-Fibre Cleaning Cloth with Ag+ ion
The microfibre mopping pad with Ag+ ion not only wipes away dirt and grime but also harnesses the power of Ag+ ion technology, ensuring an extra layer of antimicrobial defence.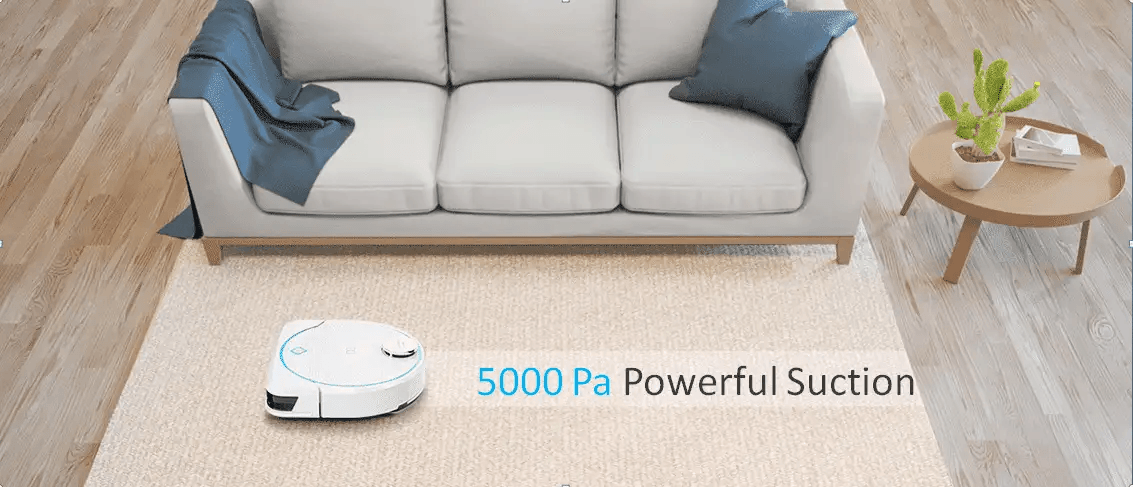 Besides not spraying water and lifting up the mop, when LEGEE cleans the carpet area, the moving speed is slowed down and the brushroll spins faster to pull dirt out from the carpet.
D-Shape Design to Fit into the Corners
The HOBOT team successfully broke through the limitations of algorithms and not only made the D-shaped LEGEE to move as flexible as the round robots but also took a step further to allow it to clean closely against the edge of the floor and reach deep into the corners and under the cabinets with its 4cm long side brush.
AI Smart Spray Dissolve then Mop
Just like how stains can be easily removed using a wrung rag, wiping with a rag that is too wet will leave traces of dirty water. The HOBOT team experimented many times to calculate and control the right amount of water to dissolve the stains, so that the floor will be clean without water marks after mopping.
Flat-Panel Mop which scrubs 1300 times per minute for Thorough Capture
The reciprocating mops can remove and retain the dirt gradually on its front edge, the floor is spotless after cleaning. On the other hand, the dirt on the dual-spinning disk mops is loosely carried and gets spined-off easily, the disk mops require frequent wash to keep-up its cleaning ability.

Available for iOS and Android devices, the LEGEE App brings delightful floor-cleaning experiences to you with its highly customizable functions and helps keeping your LEGEE firmware up-to-date with the OTA technology.
LEGEE can store and automatically switch between 3 sets of Wi-Fi networks, also, both 5GHz and 2.4GHz bandwidth are available for more efficient and stable connection! Use Hotspot to connect if Wi-Fi is unavailable. You can connect LEGEE to your smartphone easily via Hotspot.
2.4/5GHz Wi-Fi ​
Stable and Strong Dual Band Connectivity
Hotspot Connection
Smooth App Control Without Wi-Fi
Multi-Storey Wi-Fi
Store and Switch Wi-Fi Automatically
Quick Login
Log-in with Facebook/Apple/Google/Wechat
The HOBOT team adopts big data research to tune different cleaning parameters into 7+1 distinctive Talent Clean modes. You can get the floor cleaned easily with the mode according to your needs!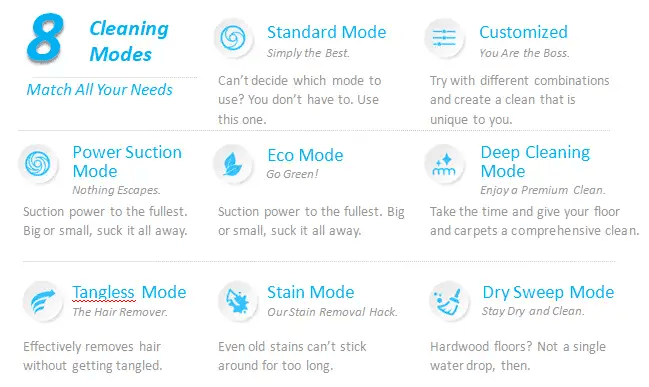 Stain Mode
HOBOT's exclusive patent. Stain Mode is your ultimate solution for stubborn, old stains. LEGEE will divide the area into 1.5m×1.5m sections and spray generous amount of water to dissolve the stains. Then, it will make a second run to mop and absorb the dissolved stains.

Deep Cleaning Mode
It's time to give your floor and carpets a comprehensive clean. The brushroll will spin in high-speed to scrape and scoop the hidden dust out the carpet or grout between tiles.

Power Suction Mode
Power Suction Mode turns suction power to the fullest and increases the spinning speed of the brushroll to clean away old dirt and debris on the floor.

Tangless Mode
Tangled hair don't care. When there is a lot of hair on the floor, or during the shedding season of your furry friends, LEGEE will pick up the hair with the front suction to avoid tangling the brushroll.

Standard Mode
Standard Mode can serve your general needs. If you don't know which mode to choose from, just pick Standard Mode.

ECO Mode
ECO mode works under low power consumption with the minimum vacuum power and lowest brushroll speed, so you can still have the floor cleaned while enjoying the calm and quiet time.

Dry Sweep Mode
Dry Sweep Mode will come in handy if you have moisture sensitive hard wood floors. The water spray function is disabled, mopping pad is lifted and vacuum power is slightly enhanced with slowed down pace so the floor can still get cleaned well after swept by the brushroll.

Customized Mode
Whether you have other preferences or you are simply curious, unleash your creativity with Customized Mode and explore every possible combination and build your own cleaning mode.
Quick Mapping at a Glance
LEGEE will briefly visit all the rooms in your house to draw a map.
5 Map Memory Full Map Positioning Room-specific Talent Clean
LEGEE can memorize up to 5 different maps and is able to know its location by matching the surroundings with the existing map.
Choose between 8 cleaning modes for each area to cope with different cleaning needs in desired sequence.
Feel free to appoint any place you wish to clean, not limited by the existing rooms or area.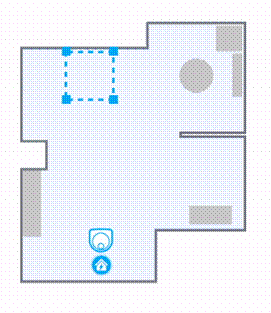 Keep LEGEE away from the delicate items.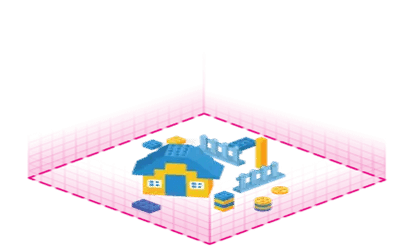 LEGEE won't attempt to cross the obstacles when cleaning.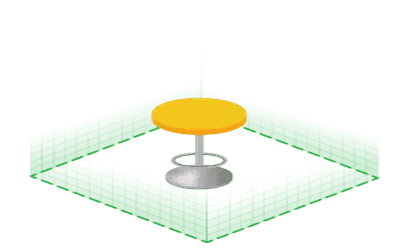 LEGEE won't miss out any corner under curtains, skirt sofas, or bed skirts.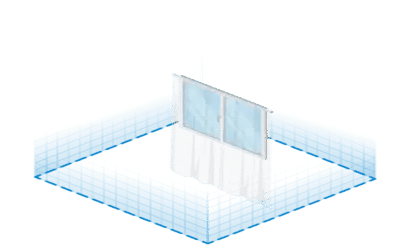 Knows Every Inch of Your Home
LEGEE (abbr. of Lidar, Encoder, Gyro, E-compass, and Position Estimation) is an unique navigation system that integrates 5 different technologies to plan the best cleaning route. In addition, with the FDS (Fixed Distance Sensors) array to detect small obstacles ahead or along walls, and two pairs of cliff sensors at the front and back to prevent falling, LEGEE can cruise around the house elegantly and precisely.
Smart Recharge & Resume Cleaning
When battery is low, LEGEE will automatically go back to the charging station, estimate the required battery power for the remaining area and resume cleaning task once sufficiently charged.
Listen to Your Command | Speak in Your Voice
Voice Control | Hands-Free Cleaning
Through Siri or OK Google, you will be able to clean the floor anytime, anywhere you want… without lifting a finger!
Creative Voice | Make Your Unique Voice
Creative Voice function adds more personality to LEGEE, allowing you to replace the default voice prompt with any voice of your desire, creating more fun and interactions among family members.
Cleaning Diary allows you to check and share the information from the past 10 cleaning tasks, including finished map, cleaned area, cleaning duration and if the task was completed.
Clean specific rooms at particular times in accordance to your preference.
Compare the LEGEE D8 with LuLu against leading brands
LEGEE & LULU

S7 Max Ultra*

Deebox X1**

Personal data stored on OS server

RRP with self cleaning tower
*information obtained from www.roborock.com.au on the 05.03.23
** information obtained from www.ecovacs.com/au on the 05.03.23
The LEGEE D8 is made in Taiwan and unlike other brands, your home map and personal information is stored on your robot, not on a server in China. Ensuring you have peace of mind when it comes to your personal information.
30 days satisfaction guarantee
We back the new LEGEE D8 and LuLu so much that if you are not satisfied after 30 days use, return to us in the original packaging for a full no questions asked refund.
We're thrilled to share our Xmas offer with you – the Legee D8 is now available for just $899, saving you over $250! It also comes with free shipping and our rock-solid 30-day money-back guarantee.
Order the LEGEE D8 today.