MOEBOT 800 ROBOT MOWER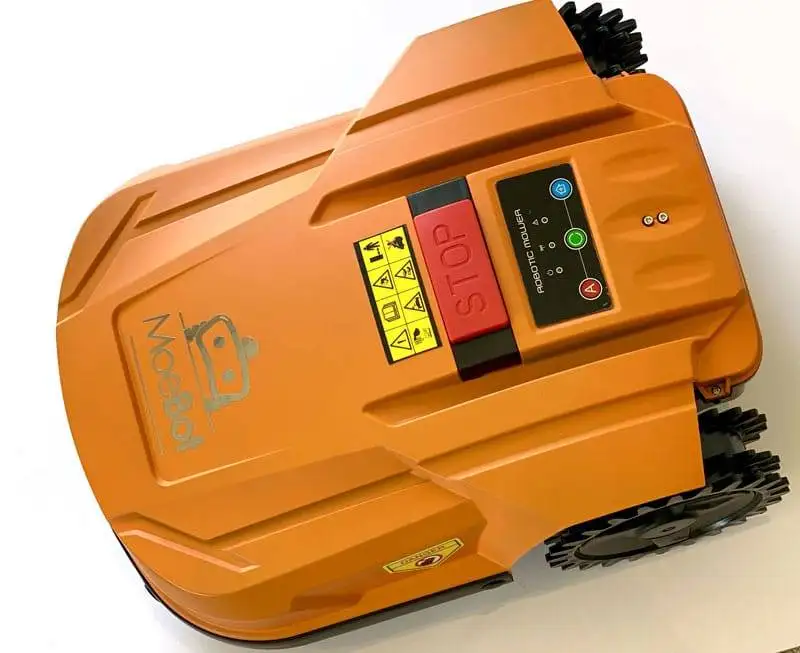 MoeBot 800 has been designed to provide you with exactly what you need, a robot lawnmower that cuts well and doesn't cost the earth. Other robot mowers capable of mowing 800m2 (8611 sqft) will cost you close to $2k.
WATCH MOEBOT CUT 10CM OF GRASS DOWN TO 4CM IN MINUTES
Before using your MoeBot you must install a boundary wire and charging station that is connected to the mains power. The boundary wire defines the area to be mowed, as well as the areas you don't (for example, garden beds) want mowed.
Once connected via a normal power point, the boundary wire emits radio waves which informs the robot of the boundary and the charging station location.
Your robot mower uses a lithium rechargeable battery, so there is no need for petrol or oil.  Once the battery is charged, your MoeBot will automatically disengage from the charging station to inform you that the battery is fully charged and ready to mow. You are now ready to start your MoeBot manually or set a mowing schedule via the APP.
Unlike a normal mower your robot is much lighter in weight. This means there are minimal track marks left on the lawn and it has a greater ability to work in the wet if need be.
Why is MoeBot 800 so cheap?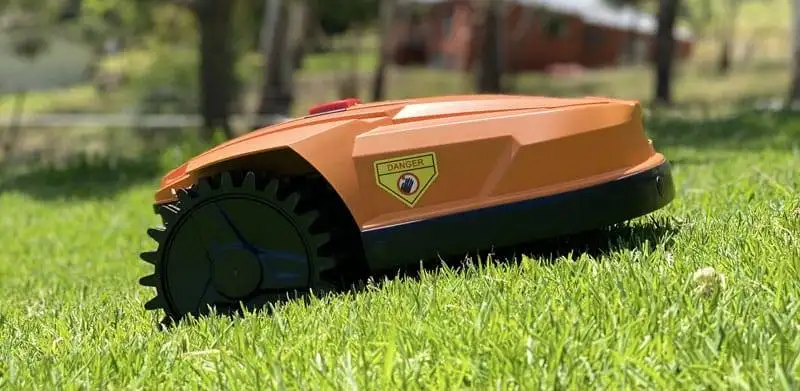 MoeBot doesn't have a lot of unnecessary high-tech gadgets. We were able to reduce cost by removing features that are not necessary for someone who just wants a simple robot mower.We have developed MoeBot 800 to be simplistic and cost effective.
No, it can't put the kettle on, and no you can't control it from inside your own home via Alexa. Can it cut lawn well?It can, isn't that what you want from a robot mower?
What grass will it cut?
You MoeBot will cut all types of grasses.
Remember, your MoeBot is designed to maintain your lawn at your desired cutting height. It can be adjusted to cut between 2.5cm and 5.5cm and has a 28cm cutting deck. 
Is MoeBot easy to install?
MoeBot 800 is easy to install. We have a full installation video series to help you and we offer online support.
MoeBot 800 can mow up to 6 areas
Soil
For optimal performance you should ensure holes or divots are repaired as they may cause your MoeBot to get stuck. Sandy soil or waterlogged areas are also best avoided.
I have a front and back yard to mow
If your front and backyard are connected you can easily have your MoeBot 800 mow the front and the back. If you front yard is no accessible from the backyard grass area, you may need to install a second base station in the front yard. This will mean you can transport the MoeBot 800 between the two, sync to the base station and mow each area.
How many areas can MoeBot 8000 maintain?
You MoeBot 800 can maintain up to 6 areas and maintain a maximum of 800sqm. It will mow approx. 200sqm per battery charge. 
WHAT HAPPENS IF MOEBOT BUMPS INTO SOMETHING?
WHAT HAPPENS IF MOEBOT IS PICKED UP WHILST IT IS OPERATING?
MoeBot is easy to install and the kit comes with everything you need. Plus, we provide a detailed 20-page manual and instructional videos.
MoeBot can also be controlled with the APP for spot cutting or use in areas without a boundary wire. Moebot will cut your lawn for 45 minutes before returning to its base station to auto recharge. 
Via the app you can set a weekly schedule, so you grass looks perfect 24/7. In fact, MoeBot can mow up to 6 working areas. 
SEE HOW TO PROGRAM MOEBOT TO CUT TO A SCHEDULE?
WHAT OUR CUSTOMERS SAYING?
I've had my Moebot for a few months now and is going fantastic! Am loving not having to mow the lawn and it always looks great. I looked into a couple of robot lawn mowers, but they all seemed expensive with unnecessary features. Moebot has all the great features you need, and it cuts through my thick Kikuyu grass with ease. I found burying the wire a bit hard, but once done you just set and forget. You don't have to worry about emptying grass clippings or having clumps of mulch laying around your lawn.
I would definitely recommend Moebot!
Moebot has been awesome. I used to dread mowing, but this product has changed the whole way I enjoy my yard. I now love my grass areas and don't even think about mowing as another chore. I love turning it on and walking away to go do something else.
Moebot has exceeded my expectations for transitioning to electric instead of petrol. It has also made quite a few of my friends jealous!
MoeBot is packed with features such as:
Capable of mowing on slopes up to 24 degrees
Capable of maintaining up to 800m2 (8611 sqft)
Rechargeable lithium battery
18cm 3 blade cutting deck
Adjustable cutting height (2.5cm-5.5cm)
WIFI enabled
Comes with its own APP
Emergency switch
Password set-up
Rain sensor
Bump sensors
Lift sensors
Blade rotation speed of 3000rpm
Waterproof
Anti-theft
45-minute cutting time
MoeBot comes with everything you need to maintain your lawn in perfect condition:

MoeBot 800 (robot mower)
100m boundary wire
100 xPegs
1 x Base station
1 x Charger
2 x sets of blades
Wire clamps
1 x Cutting height spanner
Installation videos
1-year warranty
MoeBot only requires minimal maintenance:
Occasionally brush grass off
Charge battery and store during winter (Europe/USA)
Blade replacement ($12 per set)
Replace Samsung lithium battery every 2-3 years ($150) 
To learn more about MoeBot visit moebot.com.au
When purchasing from Robot My Life you are buying direct from the Distributors, ensuring you have full after sales support and spare parts.
We ship globally and also offer DHL express if required (additional cost for some countries)